Upgrade Your Off-Road Experience: The Five Best Fat Bikes for 2023
Fat Bikes have been around for quite some time (even as early as the turn of the 20th century). Through the years, their popularity has come and gone in waves as their look and advancements in the biking industry have made them more desirable.
If you're in the market for a new bike or are exploring the different styles of bikes available to upgrade your off-road experience, I'll present to you the five best fat bikes of 2023. These bikes will check every box one would ever look for in this style of bike and is a great basis to make an informed decision.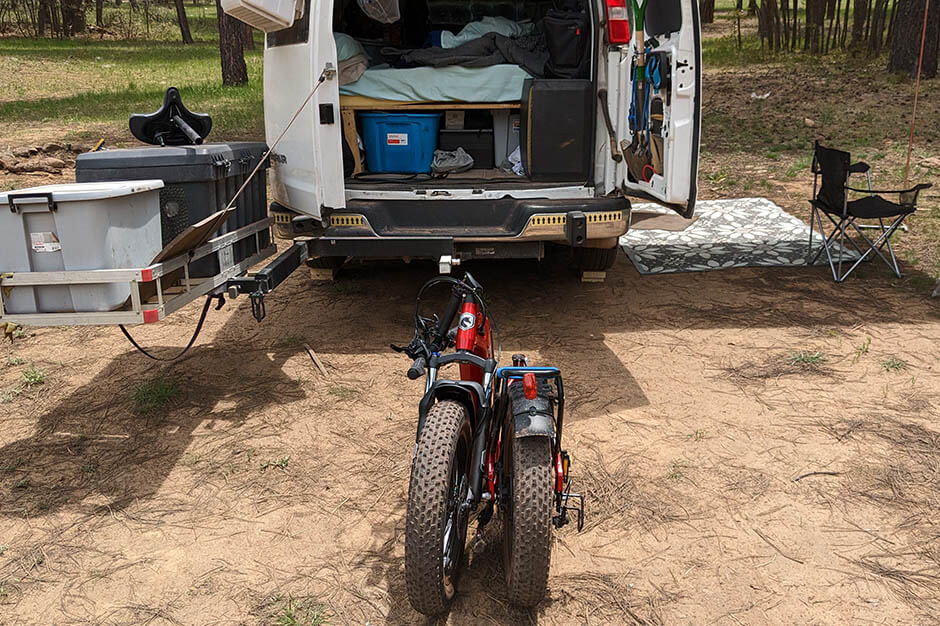 Why Now Is the Time to Buy a Fat Bike
Since the early 1900s, fat bikes have suffered some unavoidable issues that you just can't get past. Despite the trending looks of each period they'd be released, they were always more work to maneuver and pedal than almost any other form of bike out there. People wanted to like them and enjoy them, but with the fat bike came the reality that you'd be doing a lot of walking either on or off-road due to the added resistance, weight, bulk, etc.
These factors are truly what have held the style down- until now. These days, all of these issues that have been a thorn in the side of fat bike riders are removed through the addition of motorization, pedal assistance, gearing advancements, and lighter frame materials.
The Marriage of eBike Technology and Fat Bikes
Now, riders can enjoy the ride of the fat tires without worrying about getting over that hill or running out of steam trying to pedal on a gradual incline. The inclusion of eBike technology has caused people to surpass traditional mountain bikes for their off-road excursions, choosing fat bikes to handle the trails.
Trying to get those widened tires up a steep hill? Not a problem. Just use the pedal assist or give a push to the throttle rather than having to get off and push up the hill.
The fat tires, beefier frames, and more comfortable rides have made the fat bike the ride of choice for every terrain you can imagine, and with throttles and pedal assist, you'd be hard-pressed to find a place you can't conquer with your bike.
The Five Best Fat Bikes for 2023
All five of the following choices share several similarities but are unique in designs, purposes, and character. All these choices are competitively priced and are packed with features that are beyond their ticket price.
HovAlpha 26" Electric Fat Tire Bike
The HovAlpha is a great bike with a mid-range price ($1,799) that is designed to get you wherever you need to be as comfortably and as quickly as you'd like. This bike comes with an option to toggle between being a class 2 or a class 3 eBike through the use of an app. This swap in class brings you from an assisted top speed of 20 mph to 28mph with a push of a button.
At the hub of the rear tire is the 750-watt gear hub motor which provides ample power and is fueled by a 48V 20Ah Samsung/LG Lithium-ion Battery. The torque sensor provides an intuitive flow of pedal assist, and these come stock with an LCD digital panel that is equipped with all of the bells and whistles you need, primarily battery charge, speed, pedal assist levels, distance, and range.
HovBeta 20" Foldable Fat Tire Electric Bike
Not everyone has a good-sized area to store their bikes. Further, there are many places where the more compact your bike is, the better off you'll be. In comes the Hovsco HovBeta foldable fat tire eBike (priced at $1,699.00). The folding design makes it easy to bring your ride with you on the bus, subway, or can be easily stuffed into the trunk of a car.
The fat 4" thick 20" Kenda tires offer all-terrain versatility, providing a smooth ride wherever you take it and its rugged frame is robust yet light-weight. As far as the motor, battery, and other electronic devices go, they are all the same as what you'd find on the aforementioned HovAlpha, which means that you get maximum power built into a smaller package.
HovAlpha 26" Step-Thru Fat eBike
This is the step-thru version of the HovAlpha eBike, which is its defining difference. The step-thru design of the frame is great for people who might have difficulty getting a leg up and over the standard model. It's also an attractive design with a continuous flow appearance.
One thing that this and the standard design come equipped with are rear and front fenders. These are placed sensibly to avoid any upturned water, snow, or mud from getting all over the rider. They are also equipped with front and rear lights to remain safe when the sun's had enough for the day. Like its counterpart, this bike is available for $1,799.00.
HovCart 20" Step-Thru Electric Fat Bike
The HovCart Step-thru eBike is a more serious piece of equipment and is priced as such at $1,999.00. Though it is capable of going anywhere due to the fat 4" tires, 750-watt hub motor, 7-speed Shimano derailer, and state-of-the-art torque sensor, it is best suited to be used as a workhorse. When you look at it you can tell that it isn't looking for a good time, but is rather looking to get the tough jobs done.
This is the best in its class for a lot of reasons, but what is most impressive is its 450-pound cargo-carrying capacity and over 200 different configurations to store cargo. Compared to other eBikes, this one is constructed to have a lower center of gravity to provide stability when under a heavy load.
HovScout 26" Full Suspension Fat Tire eBike
If you're looking for the ultimate fat bike experience, you'd want to check out the HovScout 26" full suspension fat tire eBike. No other eBike will offer a more stable and comfortable ride under extreme conditions like this one will, having been furnished with a front and a creative approach to the rear suspension system. 
Offering maximum controlled stopping power are hydraulic disk brakes front and back, and comfortable ergonomic grips provide a comfortable hand-hold, preventing hand and wrist fatigue that may occur when rough-riding through trails. The fat 4" thick by 26" tall tires provide ample grip regardless of the terrain, and cushion many of the bumps that come with off-roading.
The throttle on-demand system allows riders to throttle from a complete stop if desired, and it is also equipped with a torque sensor and a cadence sensor to allow you to make the most out of the motor as riding conditions change. Though this is the most expensive eBike on the list, costing $2,499.00, you will find that you are getting far more than your money's worth with this one.
About the Battery- A Cool Extra.
Every one of the best fat bikes for 2023 comes with the 48V 15Ah Samsung/LG Lithium-ion Battery. It is good for 60 miles per charge while using pedal assist, and approximately 40 miles when only using the throttle. People who mix up these two modes will likely fall in the middle of that range. 
These batteries come with a cool extra that can be extremely useful, which is the addition of a powerful flashlight, incorporated into the build of the battery.  You can turn it on to boost visibility at night while you're riding, or you can get off the bike, remove the battery, and use it as a handheld flashlight for whatever you would want to use it for.
Where to get these eBikes
Fat bikes have a lot of advantages over mountain bikes and BMX-style bikes, especially when talking about the "e" versions being produced. They are more stable than traditional bikes, they're more comfortable than others when the roads get rocky or bumpy, they can cross a greater variety of terrain, and for the most part, they're more fun to ride.
All five of these best fat bikes for 2023 are made by Hovsco and can be viewed in further detail at Hovsco.com. While there, you can check out the bikes and beyond. They have an impressive collection of eBike accessories that can take your choice to the next level, and make biking a more positive experience regardless of what your needs are.
They have a lot more than these covered on their site, and I'm confident that, should you be looking for an eBike that differs from these 5, you can find one that will suit your needs there.
Conclusion
They're more fun than traditional slimmer wheel-styled bikes, they're more comfortable, more versatile, and can absorb more punishment without damaging frames or rims. When considering the advantages presented in the fat eBike iteration of this style, what's not to like about them?
As they say, "what comes around goes around," and such has been the history of the fat-tired bikes or "fat bikes." But with the technological advancements that are around today, this form of bike is likely going to be around and in demand for quite some time.
---