Can the Fat Tires of Electric Bicycles Normally Ride on the Beach?
Are you curious about what types of electric bicycles tyers are best to ride normally on the beach?
If yes, we provide the complete guideline for selecting the perfect tire bicycle for riding on the beach. If you're riding near the water on hard-pack sand or the ocean, you may need a bike which tires that can normally ride on wet, thicker hard-pack sand. In this post, we will provide detail about beach riding, so let's start. Today we suggest gears preferably; a seven-speed gives you more effortless pedaling and allow you don't have to stay closer to the water on the hard-pack sand.
What Are Fat Bikes?
Fat bikes are the best for you if you want to ride on wet sand or beach as the wide tires minimize the chance of your wheels dipping into the sand as the weight you carry on the bike. A Beach Cruiser is like a standard bike, kind of a bike in the idea that you can move on the beach. But beach cruisers are not for the sand ridding. The tires generally on a beach cruiser are 2.125 inches; however, the fat-tire bikes have about three and a half-inch or four-inch thick tires that help to ride on sand normally.
Is A Fat Bike Ride On The Beach?
The Fat bike is best for riding on the beach because the tires are perfect and provide more traction and a large surface area than other bike tires. Fat bikes are the best for the winter months due to the ability to ride on soft snow. On riding sand, the wide tires provide you with traction and extra grip, and, combined with low tire pressure, and you will see that you're able to pedal over land, which makes conventional tires sink.
Is Riding Bike on The Beach Bad?
Do you love riding near the beach and worry about your bike dropping in the wet sand?
If yes, you don't need to stress. To solve this stress, there are new inventions of fat bikes in the market that are perfect for biking on the beach or any soft snow place. These bicycles have wide tires, which allow the rider to roll over smoothly on the most delicate substrate easily. In other words, these bicycles would not sink into the sand and get stuck while crossing a stream. Biking across the sand is not bad but may be bad for your bike if you do not have to clean your bike after riding because seawater can damage the metal of a bike.
Can You Ride a Fat Bicycle on The Beach?
The answer is yes if you ask to ride a bicycle on the sand or beach. Fat bikes are typically ridden on snow and sand and used for recreational goals. The fat bike has amazing traction and can ride on different types of land. Many people can ride a fat tire bike on the beach, but some points you should keep in mind:
Before going to head to the beach, you should have the right equipment for your fat bike.
You need to check you have the right tires for a fat bike. They come with 4-5inch tires, but you can replace them with wider tires.
What Are the Best E-Bike Tires for Wet Sand?
Some bike fans have discovered themselves at beaches terrain, what types of bike tires are best for sand. Well, you need to consider the type of bike, whether it's a bike or a mountain bike. Mountain bicycles are not for riding on sand, but fat bicycles are perfect for beach and sand riding. You will have to choose the best tire for sand. You can ride your fat bike on the beach best bike that you can choose due to the wide tires helping you ride across the top of the sand without sinking.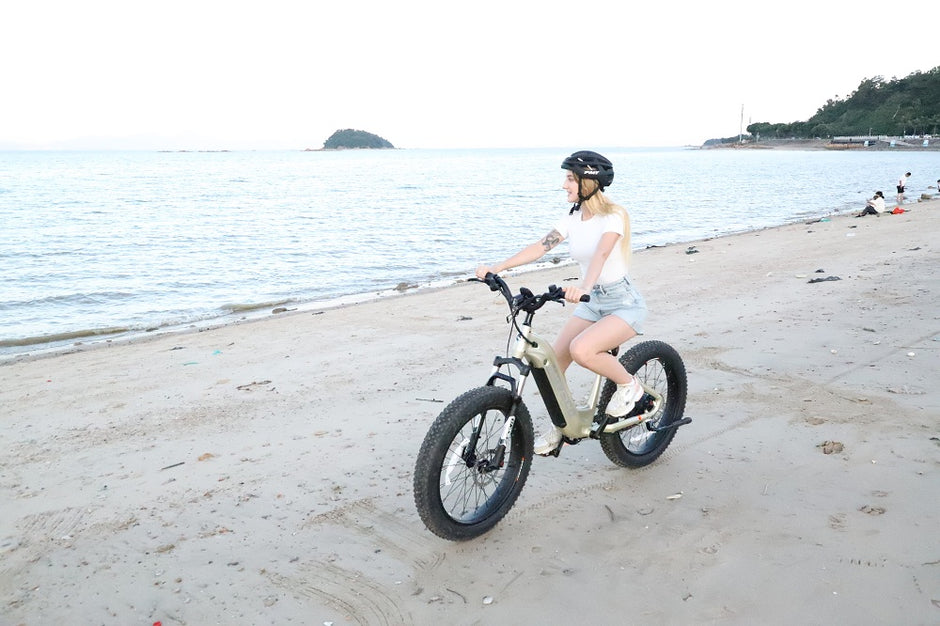 Best Fat Tire Bike for Sand
Do you love riding a fat tire bike and want to enjoy the dunes?
If yes, are you searching if you can use your fat tire bike on the beach?
While there are some rules on what kind of land or area you can go with your fat tire bike. Dunes are one of the kinds of good areas. If you are wondering about the best fat tire for sand, you should check the fat tire bike for under $2000 to get an excellent option for beach riding.
What Pressure Should Have In Fat Bike Tire for Riding on Sand?
Most fat bikes will be ridden over some dunes and also work great on the sand. An important point of riding a fat bike on the beach is utilizing proper air pressure in the tires. Different riders have different advice, but most people use pressure between 10 and 12 psi. The lower pressure will be better when you ride on sand because lower pressure help to maintain the weight on the sand around a wide surface area, and the chance of sinking will be lower.
Why Are Fat Tires Useful For Electric Bicycles?
E-bikes with fat tires make perfect off-road vehicles because of their smart designs, so much so that they can even beat gravel e-bikes in this area.
The fat tires boost the balance and make these e-bikes ideal for those who want these essential biking factors. This key also makes them relatively easier to ride.
You can feel plenty of fun and comfort when riding them as well. Overall Electric fat bikes provide a unique riding experience.
Riding fat e-bicycles also offer plenty of opportunities to burn fat.
We hope you have understood the best e-bicycle for riding on the beach or even on the wet sand. A fat bicycle is the best to ride on the beach and minimize the chance of sinking if you have any questions, comments, or ideas to share with us.
---