6 Tips for New Electric bike Riders
Are you new to electric bike cycling?
Are you an expert cyclist but new to HOVSCO electric bikes?
This article is for you!
First of all, compliments for being part of the HOVSCO community. However, I hate to tell you this—you still need to learn how to use your ebike even if you are an expert.
Yes, brands do differ in their product specifications. So, shifting to a new riding environment calls for some learning.
These tips will help beginner HOVSCO ebike riders get accustomed to their new bikes and get the most out of them.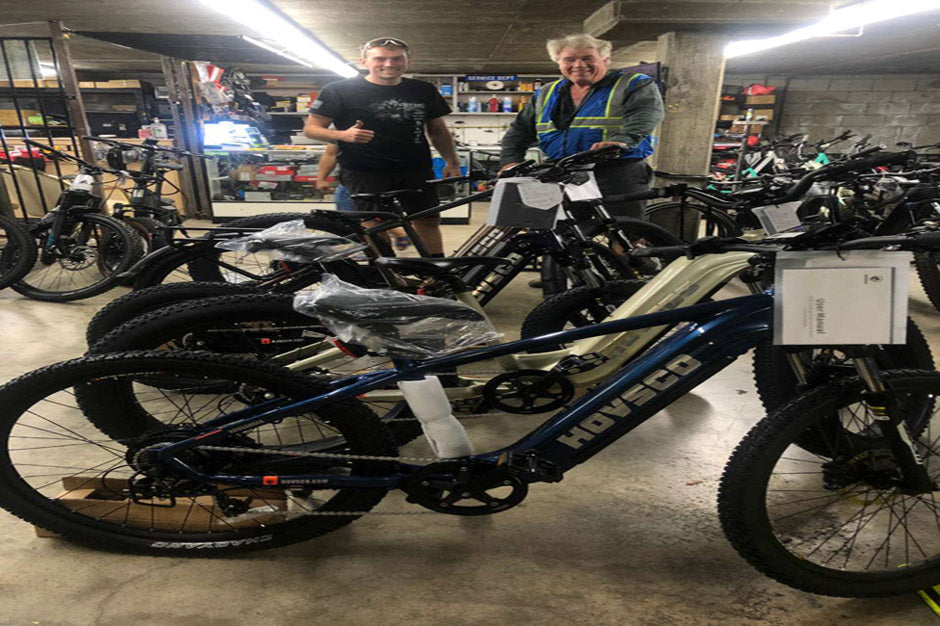 1)Have a free ebike test ride!
The most intuitive options to get in touch with ebike is have the experience of riding an ebike.
If you wondering what is an electric bike or how does it work compared with traditional bike and what are the precautions when riding ,The best way to dispel these confusions is have a riding experience yourself.
We are now offering free test ride at our store , Location as below ,most customers are very impressed after having a test ride of our ebike .
If you have any questions about our ebikes you would like to know, You definitely should come to our store and have a riding experience yourself.
Free Installment.
We even provide a free installation service for who purchased ebike in our offline store(The installation fee is worth about $150).
And the address of our store is 820 S Wanamaker Ave, Ontario, CA, 91761, US.
If you have any questions , you may contact us on the chat bottom or send us an email.
2)Practice Before Heading Out!
Riding Posture
An ebike of correct fit should let you ride as long as possible and as hard as you want with less strain and maximum comfort. It should also prevent injuries resulting from an improper riding posture.
Therefore, it's significant to do frequent test rides with the help of professional roadies to ascertain which position suits you best. When you are confident enough, choose a HOVSCO electric bike of the correct fit, i.e., it has the correct size and saddle height, and you can easily reach the handlebar and pedals.
Mounting and Dismounting
Electric bikes are heavier than traditional bikes; they're more likely to cause injuries. It will be best if you train yourself how to get on and off your ebike carefully so you don't tip it over and get injured.
Mounting and dismounting from stepping-through bikes is much easier than step-over ebikes. However, it would help if you still had enough practice to be a pro rider for any bike model. This write-up may give you some ideas!
Tuning
Making a turn in electric bikes is almost similar to regular bikes. But remember that the motor of nearly all electric bikes is located closer to the ground, lowering the bike's centre of gravity. Therefore, to maintain the bike's balance, you need to know how to make simple turns.
Turning at low speeds is not problematic. Nonetheless, stop pedalling and ensure your outer pedal is in the lowest position if you enter the curve at high speed. Then, stand up slightly and incline gently into the turn, letting your bike smoothly follow the curve.
You can resume your initial riding position and start pedalling again after exiting the turn.
Accelerating
For beginners, it is advisable to start practising riding HOVSCO electric bikes with power off, i.e., on pedal-only mode. You will easily maneuver your bike even when the battery is depleted.
After learning how to ride an electric bike like a conventional bike, you can train yourself to use the throttle mode. Finally, introduce the pedal-assist mode and learn how to shift gears.
Braking
Electric bikes are more challenging to brake due to the additional weight, speed, and motor. However, since front brakes brake more efficiently than rear brakes, it will be best to retard harder in front and softer at the back.
A 60/40 or 70/30 power distribution between the front and rear brakes is advisable. Nonetheless, always slow down earlier as you approach intersections.
3)Safety Is Vital
Be Visible
As a safe cyclist, you should mind that how you get around determines the safety of other road users. Therefore, try to be visible by wearing bright and reflective clothing, especially at night.
It would help if you also considered equipping your ebike with a white headlight, a rear red light, and reflectors. Besides, helmet-mounted lights can improve your visibility while providing extra illumination when cycling in dark areas.
Read Your E-bike Manual
Electric bike brands are specific in several specs, including pedalling resistance, motor placement, and power and torque delivery. Therefore, you should pay attention to the user manual to know how the bike works and be more informed about how to use, repair, and maintain it safely.
Check Your Bike to Make Sure It's Safe to Ride
Are you confident that your bike is in correct working order?
Before getting your HOVSCO ebike on the road, please inspect it to ensure the tires are fully inflated, the battery is fully charged, brakes are working correctly, chains and brushes are off dirt, and more!
Respect the E-bike's Weight limits
Weight will affect your bike's range. The lesser the weight, the lesser the battery power your bike will consume; hence, the more the distance it can travel on a single charge. Exceeding your ebike's weight limit can cause premature wear and damage your brakes, rims, spokes, and saddles.
Learn Some Basic Urban Traffic Riding Skills
It's easy for beginners to follow the lead of other riders in traffic. While that may be a practical solution, we don't support it. Electric bikes are considered vehicles; therefore, you should know all road rules.
For your safety, please try understanding the traffic lights, blind spots, cycling clothes, and primary and secondary riding positions.
4)Wear Appropriate Bike Attire
Riding Accessories
Cycling helmets are a must for head protection. You'll also need sunglasses to protect your eyes from glare, road debris, and wind, which may cause dryness and irritation when cycling. Besides, purchasing caps/headbands, gloves, knee, elbow, and back pads won't cost you much.
Footwear
A beginner may not know that cycling shoes are usually paired with compatible pedals to lock your feet in place. That's a fact, but only for clip-in pedals.
With flat pedals, you won't have to worry about compatibility. You'll only have to invest in good quality closed clipless toe shoes. Avoid sandals; they expose your feet to dirt, debris, and accidents.
Bottoms
Please wear some decently-padded cycling shorts to prevent too much damage to your hips. However, you can also consider bike pants, biker shorts, sweatpants, leggings, or any other clothing that suits your preference.
Tops
Synthetic cycling jerseys are most preferred because they are breathable and fast drying. But any comfortable t-shirt can work just as well!
If you are cycling your ebike on a sunny day, please protect your forearms from harmful UV rays using sun sleeves. And on a cold day, thermal arm warmers will be better.
5)Mind Your Body's Energy and Hydration
Stay Hydrated
Professional riders may confirm that it's always good to hydrate before, during, and after cycling to maintain electrolyte balance in your body. So, carry enough water and sports drinks for your trips.
Replenish Energy
You will need enough energy to keep you going if you use pedal-only or pedal-assist modes when riding your HOVSCO electric bike. Therefore, don't forget to include some snacks and energy bars in your backpack.
6)Protect Your Investment
Clean Your Electric Bike Regularly
Like any other automobile, electric bikes also need regular cleaning; dust accumulation may wear the moving parts quickly. Therefore, as a beginner, you must learn how to properly clean your ebike to keep it running smoothly and efficiently.
Guard Your Battery
An electric bike is nothing without a battery. The battery's health will determine your bike's performance, i.e., its range on a single charge. These tips will help a beginner, or even a professional rider, know how to maximize their ebike's battery life.
Check Your Tire Pressure
Every electric bike has its maximum pressure printed on the tire's sidewall.
The pressure value may vary depending on the tire size, rider weight, and riding conditions, among other factors. This article explains it all!
Learn Basic Ebike Repairs
Electric bike repairs are not hard to do. With the many online blogs and vlogs today, you can easily teach yourself how to be your mechanic.
Chains and tires are among the essential elements that will need regular repairs. As you teach yourself how to fix them, don't forget to buy an ebike repair toolkit for peace of mind!
---