6 Best Electric Bikes for Adults: How to Choose
Electric Bikes for Adults, Hovsco Bikes
Electric bikes have become the new norm in biking. Bikers are slowly embracing this product, considering it a healthy alternative to most traditional bikes. However, choosing the best electric bike for adults can be challenging when selecting the right product. Don't worry! As one of the leading electric bikes for adults firm, Hovsco Bikes offers a complete guide on selecting the best one for your requirements. Here, the article will consider these aspects in detail, including: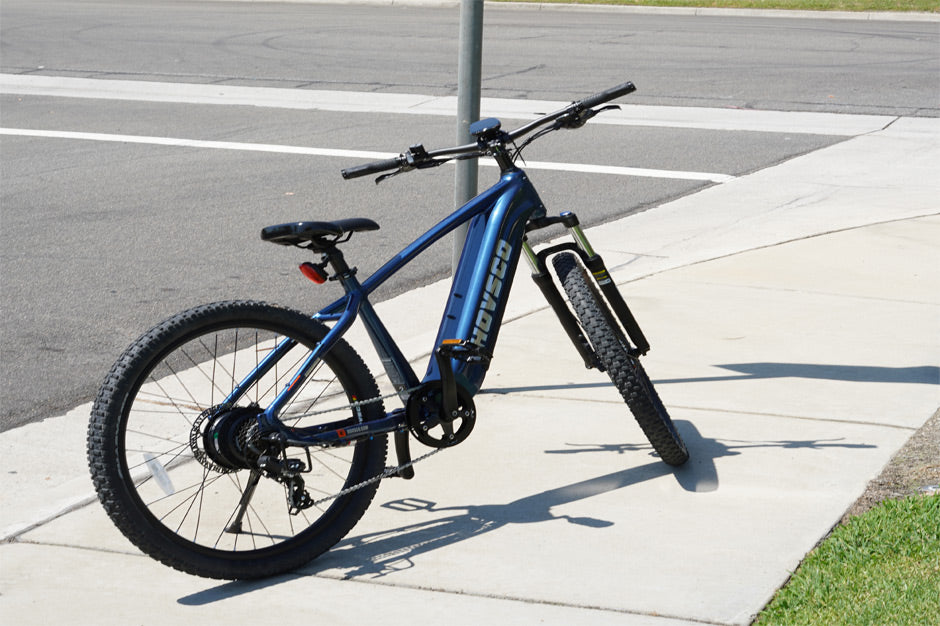 Classes Of Electric Bikes
Before choosing the best electric bike for yourself, it is important to note their inherent differences. There are primarily three different classes of electric bikes:
 Type 1: A motorized function helps you to initiate the pedaling and keeps doing so until you reach a certain speed.
 Type 2: Type 1, along with a throttle-powered mode, for a better driving experience.
 Type 3: This type offers a higher speed limit for motor-assisted pedaling than type 1.
The Battery Type and Capacity
A major issue when selecting an electric bike is getting one with the right battery to support your needs. Electric bikes for adults can have batteries with different capacities. For example, you can have a 500-watt battery or a more powerful one. However, the bike's motor will be crucial in deciding how long the battery lasts.
Other factors related to the battery that are important include the charge time. In many cases, the battery takes between 3-5 hours to charge completely. However, this time can vary greatly based on the capacity of the batteries. Also, buying faster chargers can help reduce the charging time considerably. Similarly, the number of batteries can be increased or decreased to enhance capacity. Some adult bikers prefer carrying replacement batteries to ensure that their long trips can continue without any trouble.
Finally, the battery mounting setup is important to consider. A clear frame for battery placement makes it easier to cycle around. However, external batteries can be replaced easily. Therefore, it balances utility and ease of change, and the choice depends on personal preference.
Motor Location of the E-Bike
Different types of cycles have different motor locations. For example, some electric bikes have a hub-drive motor inside the rear wheel's hub. On the other hand, the mid-drive motor is placed between the attachment of the frame and the arms. However, it is important to consider that the bike's shape may vary based on the motor placement. Similarly, it affects and power and feelings of the drive as well. For example, hub-drive motors can give you a feeling that you are being pushed from the back during driving. The opposite is true for front-hub drive motors.
Torque
Electric Bikes for Adults may be used on different terrains. If you plan to use the bike on steeper terrains or place higher loads on them, it is important to consider the bike's torque. These are measured in newton meters and are usually listed with the product. With Hovsco Bikes, such information can be requested from our support team members.
Pedal-Assist and Levels
Another feature in most electric bikes is pedal-assist and levels of pedal-assist. Here, you need to consider the assistant's responsiveness before purchasing. If the bike offers higher assist levels, it can be adjusted per your requirements, providing a more wholesome feel while biking. On the other hand, you must also consider the integrated accessories offered. Some bikes offer lighting, racks, smartphone integration and lock systems, LCDs for mounted handlebars, built-in security systems, and different frames.
Personal Choice
It all comes down to personal choice in the end. The prime consideration is getting the bike that suits your needs and meets your requirements. In most cases, the personal choice can be the overriding factor: if you like a bike, get that bike! Our team offers a range of high-end bikes for all types of adult electric bike lovers. Below, there are some of our best bikes that you can consider.
HovAlpha
One of the best electric bikes for an adult that we offer! HovAlpha Fat Tire offers a 750W Bafang Hub Moto with great output and ensures quality cruise control. At the same time, the battery it boasts comes with a flashlight and provides maximum upgrade quality. Similarly, the speed shifter system is beneficial as well. Get this quality bike with a digital panel installed to have one of your life's most comforting bike journeys.
With HovAlpha Step-Thru, we offer multiple positive upgrades compared to the base model. You get a special 80 Nm motor to ensure better torque sensing and brushless geared hub motor usage.
HovRanger
This bike boasts a 500W upgraded brushless hub motor. At the same time, it maintains the 80 Nm torque, making it an excellent bike in your arsenal. The tires are specifically selected to work well on all types of terrain and terrain obstacles as well.
An upgraded version of the HovRanger is available as a Step-Thru Commuter. The brakes have been upgraded to offer a smooth feel and better gripping power.
HovBeta Foldable
With the foldable option, this bike is perfect for anyone who wishes to bike on hills and other terrains. The ride is comfortable, and the battery time is sufficient for longer rides. Get the 7-speed shifter system to ensure that the stand-over height is well-maintained. Storing the bike is easier compared to other models due to the lower stand-over height.
HovCity Step-Thru
Finally, you can check out the City model that offers a 45 Nm torque, ensuring a smooth ride. The battery power of this version is lower than others. However, it comes at a more economical and affordable price tag, making it the best starting option for most bikers.
Conclusion
Getting the right electric bike for adults is important to ensure biking and having an amazing experience. With Hovsco Bikes, you can get the hike of your dream. Check out all our electric bikes today, and let us know which one you prefer.
---